If you've known me very long, you have probably heard me say I don't like cold coffee, and perhaps you've noticed I tend to heat it hotter than just plain hot.  I do love it extra hot.  And black.  I never liked those fluffy cold coffee drinks they need a blender for or even iced coffee with sweetened condensed milk etc…  nothing cold.  Not even a little less than very hot.
Until now.  Cold brew is ground course (my preference anyway) and brewed on your counter in cold water for 12-24 hours, then strained and put into the refrigerator.  THIS is good.  It smells good, it tastes good, with not a hint of bitter.  It is almost too easy to drink too much.  I never thought I would say that about cold coffee.  Cold brewed black coffee.
I d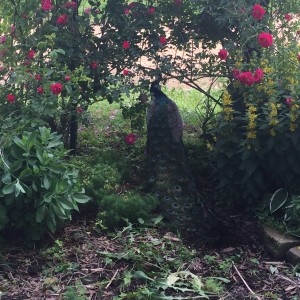 ragged my feet regarding the garden, earlier this spring.  Even when it wasn't raining or storming, whenever I thought "I really should go out there and see what they're on about", there was immediate and thunderous disinterest.  My usual seriosity about flowers fell on a deaf heart.  My whole being radiated the message (to the garden) "go away, I am busy".  Being as old to this world as I am, I didn't worry too much about myself or the garden, and sure enough we are back on friendly terms again.  All things planted that are needed and the roses and I are back in each other's good graces.
After today's battle, I walked back into the house and it smelled like fresh coffee grounds.  Usually when you walk into our house, you smell coffee.  It lingers nicely.  On a fishing day though it may smell like fish.  It's worth it. Summer is on.
"Quick now, here, now, always-
A condition of complete simplicity
(Costing not less than everything)
And all shall be well and
All manner of thing shall be well
When the tongues of flame are in-folded
Into the crowned knot of fire
And the fire and the rose are one."
(T.S.Eliot)