Monthly Archives:
September 2015
With another child learning to drive, I once again am being chauffeured around the area.  At some point I'll be able to bring a book.  I've rather enjoyed this time with each new driver.  It's a good time to just go places together.
Speaking of another child: oldest daughter unit has had another, every bit as sweet as the first.  I can hardly wait to meet child number 2.  This new source of inspiration turns my activities rather quickly from produce to fabric.  You can see why: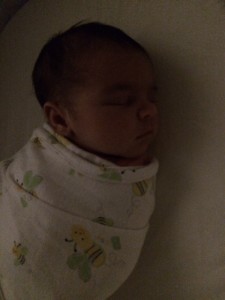 Local News:
The onset of the new school year sometimes brings odd yet interesting unit studies.  A local school kicked off with a "1970's" unit.  Tie-dying, washing with patchouli soap, brownies.  Because of the nature of that decade, it was decided to limit things to those safe topics.  A brief music lesson on war protest songs was also included.
It has been noticed that during the busy season of late summer, baskets of clean clothes unmold rather like jello when finally turned out to be folded.  This object lesson in inertia and gravity and time, was demonstrated during story time, where they are currently navigating their way through Carry On Mr. Bowditch.
A recent trip to McDonald's was… a good opening for a lesson on Agoraphobia, when "Coughing Guy" showed up to buy food.  Most folks backed up and sat down with or without their food, while others decided to just take it home (which was, of course, the right answer).
The weather is cooling, which means all recent experiments in plant propagation must move inside.  The Ku…..Geraniums first, since they are so touchy.  But the other Grandma involved in this must be told that things are looking up and a topiary form (think T. Rex) is on the horizon.
– – – – – – – –
Have a great September, at whichever Latitude you find yourself,