As this New Year progresses, and is now in its toddler stage, I would like to make a few comments on it.  To myself really, I guess.  A sort of catharsis happens when one writes it down, and posts it out there to where nobody cares, but *could* read it if necessary.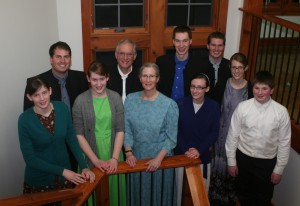 ~January had its ups and down.  The downs cause us to look up and strive through them (hopefully not in vain).  The high points are; visitors, and quiet days, and playing outside in the snow as only the Johnson's do.
~February is our family's first birthday of the year.  Jonathan – who was born one very cold, lonely winter.  His presence was welcome like a sweet spring morning and his name give for David's beloved friend.  Jonathan was here for his birthday this year.  Here from Haiti, where he lives currently.  Birthdays around here aren't hugely spectacular, but they are filled with love and care and little presents. And ice cream pie this year.  Call me for the recipe-it's easy.
I'm currently trying to resume the routine, at the same time, mentally gear up for Valentine's Day, at which time the oldest daughter unit still living at home, will leave for….8 weeks total for Bible School.  Good for her – it's a big step.  I'm glad we'll be close by to smuggle in treats and clothing.   We may even tour the SPAM museum before dropping her off.

Have a great February.  Don't let the cumulative extra 1/4 day for the few years get to you.  It will be rectified in 2016 then we can breath easy and begin again.