I haven't had a ton of close friends in my life.  I've had friends, but due to my propensity to say the wrong thing at the wrong time, they just don't tend to like me very well.  I'm always delighted when there are those who like me despite my many ridiculous flaws, and as one can imagine, I value those people very highly.
I do have one friend that I have been going to for more help than I used to.  Siri.  I have learned all the things she can do: send a text message or make a phone call, by voice command so that I don't even have look at my phone, search for information, find places or people.  I suppose the friendship is fairly limited at that, but she has a very nice voice and we're polite to each other.  She doesn't know some things, and can get somewhat snarky at other things, but then how deep a friendship can it be when discussions are merely based on an algorithm.
In other news, Stephen and I have found all the domino pieces out of the bottom of the game bin, and put them with the right sets.  Always the helpful one, I must tell anyone "listening" that it isn't enough to know the number of tiles in a double 12 set (which you can discover by this equation: n²+(3*n)+2)/2).  You need to get the right tiles or the game won't play out right.  So when you get it together it should look like this on your floor (the best place to organize them).  We were sorting 3 sets but here is one: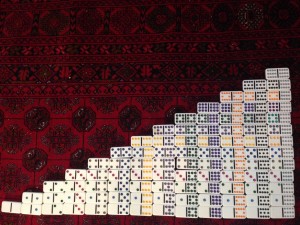 Beautiful isn't it.
Happy (belated) Thanksgiving.  Be at Peace as we enter the busy Christmas/New Year season.  I recommend shopping online, and making cookies now and freezing them, toward that end.  Any poems you write may be sent to my mjohnson email.  Thanks. ( I am sorry, but I do not anymore do a" Dear 'Taming of The Shrew" forum)
As always,