After a questionable, early spring with rare sun and lots of mud, we returned from Jeremiah's wedding in NY to find the farm fields with that haze of green corn sprouts that feel hopeful and full of promise.  So I stop to ponder other hopeful things: visiting with distant family, knowledge of friends, words to songs, coffee in the wee morning, sunshine streaking across the fields just before setting.  And some days more than others, we must purpose to look for hopeful things.  Now that we are in June and spring is almost at an end, I look towards summer, with its regular paces of the perennials making their way through the weeks of summer.  Summer is what MN is all about (except for winter, and possibly spring), so we are looking forward to campfires, garden work, swimming, extreme warmth, and other routine events and rituals that add to our days.  Day by day we make our way through each season, knowing that the next one is not too far distant, but purposing to enjoy the one we are in to the fullest.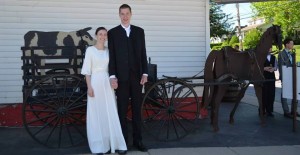 Jonathan has returned to Haiti.  Sister Kim went with him for 2 weeks and they are enjoying some leisurely summer time there.  He came home and got right to business: he shot a turkey during our brief spring turkey season, and smoked it (it's not as bad as it sounds).  He and Mark went fishing, and he visited church as often as he could while in town. He was in 2 weddings as well, so time flies.  Jacob is minus the use of his right arm for the summer, so we girls and Stephen will be the ones fighting back the woods and prairie this summer.  And Mark will help us along and fix our mistakes and equipment, when he is home and available.
          ~~~~~~~~~~~~~~~~~~~~~~~~~
Local news miniature
There will be concerts in the white block silo (the acoustics are incredible) weekly.  Be sure to turn the electric fence off before squeezing between the wires to the silo entrance.  Concerts aren't long since the pigeons still live in the top.
2 Roving ELCA pastors currently in the area, are having great success alienating people from religion as they visit various surgery sites wanting to pray with victims  patients before their surgery.  They are the ones who sit in the waiting room way too close to you, discussing loudly their various ecumenical programs, politically correct schemes, and different formats of worship.  Waiting room visitors who don't quietly move away, have mentioned they prefer a humble friendly face and a real smile with no strings attached.
The new parakeet "Jeeves" has found his permanent spot right next to his best friend (the mirror).  The Parrot is attempting to bring this narcissus out of his trance by screeching at him.  Efforts are being made to re- program this Quaker parrot back to its pacifist roots as it continues to behave more Baptist than Quaker.
Next edition we will discuss the difference between pacifism and non-resistance.  Until then, take the name of Jesus with you.