The giant snow piles are nearly all gone, but that isn't as clear a sign of spring as honeybees loose in the house and the local Dairy Queen finally open for business.
Our Very Small Dairy Queen (for our Very Small Town).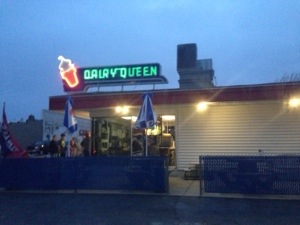 My bee gloves have had a rather foolish hole in them for a couple years.   Mark never gets holes in his.
I finally fixed them with Mark's fly tying thread.  Had to use a thimble because I couldn't find my small needle nosed pliers. :-/  Good as new.