Before I get directly into "holiday tips", I would like to touch on the idea of encouragement.  Everyone needs encouragement now and then.  Well, actually it appears we may need it daily –  So we need to give it daily.  Let's look at a few ways we can show our appreciation (one form of encouragement): Some like to leave notes around, some mothers (or fathers) leave little works of art in their children's lunch boxes.  I have hit upon a pretty good one to remind Mark that I care – He will often find one or two long hairs on his socks, stuck here by static cling from the laundry.  So there is an idea for you ladies who struggle to come up with those ways to show appreciation.  You're welcome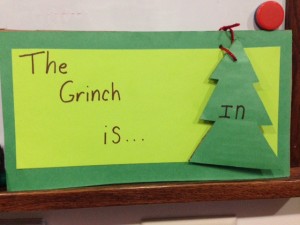 My 2 youngest children made this up for me, for my kitchen.  I prefer naps to any kind of holiday decorating.  We don't do much really but just a little to cheer up the dark winter mornings and evenings and to have a festive atmosphere for the few little "parties" we like to do over this time.  It's pretty, but left to myself I would light a candle and call it overkill.  Probably just laziness on my part but my children enjoy doing that part so I gladly let them.   Here are a few ways to simplify and not have it be too hectic.  Well, sometimes you can't avoid that because of schedule conflicts but this will help – choose a sturdy, nice all purpose Christmas cookie and just make lots of one kind.  We do gingerbread people.  I have medium size, which makes a lot for service to sudden guests or doing up a plate.  I have a large person cutout  (and we add 3 red hots for buttons) to give to delivery people such as our friend the UPS lady, or the mailman.  I put it in a sandwich baggy with a thankyou note attached.  This would also make a nice Sunday school teacher gift.  We all like to be remembered.
This year I have hit upon a new way to speed holiday cleaning up.  It may or may not work for you but here it is:  One day when we were washing some of the windows, I brought my Quaker Parrot over to sit on her perch near me while I washed and squeegeed.  This bird quickly picked up the squeaky squeegee sound and began to squeegee the side of her food dish.  So to feel like I'm getting the yet undone windows now, I just put the bird in the room while she does her squeegee sound, then move her when she is done there.  Things perhaps don't look quite as good as they did last year but I am freed up to catch up on laundry.  Next I'll try to teach her the vacuum sound.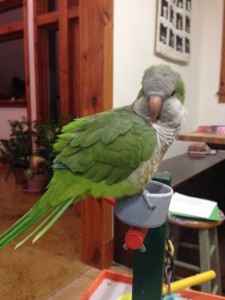 Until next time,